The best basketball shoes for shooters should have perfect traction to ensure a non-slip experience providing sturdy stops and smooth direction control for excellent dribbling and long-range shots.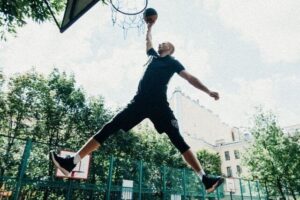 Specifically, the best basketball shoes for 3 point shooters have to offer dynamic traction, usually through a curved midsole that allows for active and complex crossovers.
Also, lightweight materials in the upper and midsole should be deceptively light to ensure shooting guards, centers, or small forwards can shoot conveniently.
Lastly, good shoes for basketball shooters should fit perfectly with excellent lockdown and wraparound that prevents fidgeting and unnecessary movements.
Below are our best picks that perfectly fit your shooting position, whether you are a shooting guard, center, or even small forward.
Reviews for best basket shoes for shooters
Nike KD 14 are the overall best basketball shoes for shooters. They have adequate cushion to reduce friction during foot movements allowing shooters to play comfortably for over 3 hours.
The styrofoam-looking insole is super soft and has a crater to fit in the zoom Stroble, thus providing a fantastic full-length cushion.
Nike KD 14 features an aggressive multidirectional tread pattern with a soft rubber outsole to provide outstanding traction, shooting fast or during fast direction changes.
You have zero chances of slipping when aiming, striding or even braking as a shooter.
However, Nike's KD 14 will perform well indoors and outdoors, but its durability outdoors is relatively lower than its competitors due to the soft rubber outsole.
Nike KD 14's midsole features upgraded cushion foam superior to the Nike KD 13, giving shooters springy responsiveness and a significantly softer landing than traditional Phylon.
This way, you can comfortably gas up for a leap, make multidirectional strides and exceptional rebounds even from the perimeter.
Nike KD 14 has excellent support due to the sturdy stabilizer plate installed at the center of the midsole.
This provides supportive basketball shoes for shooters protecting knees, ankles, and the forefoot.
The upper is made from naturally breathable 4 layered material, providing both excellent breathability and dryness plus a durable fabric to withstand rough platform defense when shooting.
The orange shell layer and the white structure layer couple up to lock your foot on the footbed to ensure a comfortable fit.
The outer TPU style mesh layer of the upper keeps the weight deceptively lightweight to ensure an excellent weight distribution.
Pros
✅ It has an adequate cushion for long basketball sessions.
✅ Its insole has a soft lining and a crater underneath for faster breaking.
✅ Its multidirectional soft rubber insole offers outstanding traction.
✅ Its midsole features upgraded cushion foam for additional springy responsiveness.
✅ Its stabilizer plate offers additional foot sole support.
✅ Its upper is multilayered for a lightweight and perfect fit.
Cons
X Although the rubber is durable, it does not fit in all outdoor courts.
At runners-up are the Adidas Dame 7, which has a zig-zag tread pattern on the tracking pack that offers outstanding traction to ensure a no-slip experience.
Also, the outsole has well-designed and positioned craters to provide a superior contour system that not only allows for compression but also enhances multidirectional traction.
The midsole is a light strike and perfectly strikes a balance between featherweight materials and nice responsiveness indoors and outdoors.
This way, shooters can achieve explosive forward strides and leaps while maintaining swift lateral movements.
The upper features sturdier materials than those of the Dame 6 to create a reinforced upper that gives a more comfortable fit, thus reducing fidgeting.
The tongue is triple-layered and elegantly looking with a mesh top layer and soft fabric to increase comfort and ease of entry.
The overlays are made of synthetic nubuck durable enough to withstand rough play and perfectly resist wearing and tearing.
In the end, you have overall elegantly looking shoes without the risk of peeling or dislodging.
The quilted Achilles pillows on the inside plus the unique lacing system allow for a perfect fit to ensure your foot locks in comfortably during shooting sessions.
The rounded heel section, plus the curve and flex at the forefoot, provide excellent flexibility for shooters to experience a smooth heel-to-toe transition. 
Pros
✅ It has a grippy zig-zag pattern tracking pad.
✅ Its midsole has a full-length light strike for ultimate responsiveness and weight management.
✅ It has a sturdy and durable upper.
✅ Its overlays are durable and elegant-looking.
✅ Its inside has comfortable quilted pillows.
✅ It has a perfect heel-to-toe transition.
Cons
X Has a strong factory odor right off the box and may require aeration.
Learn More from SneakerWagon: Best Basketball Shoes For Big Guys
At the second runner's up position, the Puma Clyde All-Pro features an excellent traditional rubber tracking pad and multidirectional tread patterns with a pivot section for customized traction during direction changes.
The midsole consists of superior profoam+ that provides a soft, bouncy heel section while offering a deceptively lightweight experience; each shoe weighs in at only 11.9 ounces.
Also, the ortholite insole provides an additional cushion to ensure comfort in difficult shooting situations and combatting tough defense.
The multizone woven textile upper is super light, breathable, and has dark, sturdy, carbon linear patterns to perfectly fit the foot to give that nice lockdown and support.
Also, the carbon reinforcement increases abrasion resistance making it suitable for shooting near the post or during tough attacks.
The significantly curving and flexible forefoot propels shooting guards when running on the court and smoothens the toe to heel transition. This way, you can achieve faster speeds with less lag.
Pros
✅ It has an excellent tracking pad for customized traction.
✅ The midsole features a lightweight and soft profoam+.
✅ The upper features reinforced carbon weaves for perfect lockdown.
✅ It has a curved and flexible forefoot for propulsion.
Cons
X The toe box has a flex-dent due to the variation in the strength of materials of the woven upper.
LI-NING All City 9 comes in at position 4 with a uniquely sturdy and slip-free traction pad featuring unique patterns, grooves, and orientation to enable shooters to remain still and avoid missing the target.
The rubber build of this outsole promotes a grippy experience even when putting maximum pressure on the knees, great for saving and receiving the ball along the perimeter.
The upper is made of durable and breathable high-quality synthetic leather that not only gives a dry, non-smelly experience but also ensures a nice foot lockdown and perfect fit.
This way, shooters experience stable shoots that bite the ground well during lateral movements.
The soft midsole featuring a Lining Cloud material uses unique cushioning to ensure shooters experience a soft landing.
Also, the springy responsiveness ensures the landing force is efficiently transformed into rebound potential enabling shooting guards to jump higher and score more baskets.
LI-NING All-City 9 has an excellent fit due to the high-quality wraparound upper plus the velcro strap lacing design that ensures your foot is locked without fidgeting or loosening.
The cutout in the middle of the midsole allows inserting a plastic plate that increases midfoot support while keeping the weight relatively low at 13.4 ounces.
This weight distribution hack creates deceptively light shoes to ensure a smooth shooting experience without an overly big shoe that slows strides and reduces the height of the jump.
Pros
✅ Ultimate Slip-free Traction
✅ Durable rubber outsole
✅ Cut out midsole for weight distribution
✅ Lining cloud Cushioning technology
✅ Unique velcro strap lacing design
✅ Wide opening tongue for Easy entry 
✅ Internal TPu heel Counter for lateral containment
Cons
X Requires half a size higher or full size for shooting guards with wide feet.
At position 5 are the Under Armour Spawn 3 as the best basketball shoes for fast shooters. Its uniquely designed tracking pad provides consistent traction and a hard stop to enhance direction changes and lateral movements to fast players.
The significant outsole curvature allows dynamic movements perfect for fast shooters making deceptive ball moves to trick defenders.
This way, crossovers, and difficult shooting positions become easier and score more baskets due to this additional grip of the rising rubber outsole.
The heel curves significantly till the back of the heel to ensure shock absorbing compression plus smooth heel-to-toe transition when landing, braking, shooting, or striding from the heel.
The cushioning in the midsole features full-length micro-G, ensuring an all-around comfort and shock absorbance.
Therefore, the steeping comfort and underfoot cushion is not only lovely and comfortable but also bouncy responsiveness.
The upper features durable textile with a premium quality fuse in the toe box and eyelets to resist wearing and tearing when facing tough defense, especially shooting near the post.
The tongue has a soft padding that adds to the overall shoes' comfort.
The textile material stretches and fits true to size to provide comfort and an excellent lockdown that allows for smooth strides and lateral movement.
Also, the internal TPU heel counter and the rise of the outsole ensure superior foot containment to avoid slips and misalignment.
Pros
✅ Unique trackpad
✅ Curved outsole
✅ Curved heel and flexible forefoot for a smooth transition
✅ Comfortable full-length micro-G cushioning
✅ Durable, thin, and sturdy upper
✅ Perfect lockdown for stride
✅ Mesh material for ultimate breathability
Cons
X The cushioning feels too low to the ground
At position 6 are the Nike Men's Shoes PG 5 with beast traction due to the customized treading pattern and a well-engineered groove system that perfectly resists duts accumulation.
Also, the rubber build of the outsole features top-notch durability allowing it to be used in outdoor courts by shooters.
The full-length air Strobel offers the perfect overall shoe cushion. The midsole is made of high-quality Phylon that single peaks at the hindfoot and double peaks at the forefoot to give excellent containment and a perfect fit.
This way, shooters can make 3 point shots without fidgeting or inconsistency, even during lateral movements.
The soft, dual-density insole gives a comfortable feel while providing sturdy footbed support to ensure landings do not hurt even after high leap shots.
Also, this insole's bottom layer perfectly conforms to the air Strobel unit to give you extra shock absorbance reducing impacts during rebounds.
The upper is made of textile mesh and synthetic leather plus swift interior padding complemented by Achilles pods that offer ultimate comfort and fit.
The arch support also leans nicely when gassing up to make explosive shots.
The curved and flexible forefoot section and the midfoot chainplate all couple up to only give excellent heel-to-toe transition but also outstanding torsional support for shooting long and short ranges.
At 10.86 pounds, Nike PG 5 is the best lightweight basketball shoe for shooters allowing for quick, hassle-free gameplay for hours.
Pros
✅ Best traction
✅ Full-length air Strobel
✅ High-quality phylon midsole
✅ Textile mesh and synthetic leather upper
✅ Excellent heel to toe transition
✅ Extremely lightweight sneakers
Cons
X The airflow scores a 3/5 and relies on the thinness of the materials to wink away moisture.
Last but not least are the Kyrie 7 with a scientifically designed traction pad pattern whose role is to provide multidirectional 360-degree coverage.
Also, the pliable rubber and the aggressive contours offer firm grip and extraordinary durability both outdoor and indoors.
This way, you achieve higher consistency and tight non-slip stops allowing shooters to duck defense and make short-range shots.
The Kyrie 7 feature upgraded Phylon in the midsole that is lightweight and springier than the Nike Kyrie 6, thus providing responsiveness and shock absorbing compression for shooters. 
The Kyrie 7 includes an additional pair of laces to enable shooting guards to easy time in case of wet, misplaced, or even worn-out laces.
The back of the upper is highly reinforced and feels sturdily stiff for ultimate ankle support.
Also, the forefoot secretion has 2 stable flaps on either side to offer perfect containment and fit to avoid fidget and unnecessary foot movements.
The Kyrie 7 fits true to size, although this is one of the very true-to-size basketball sneakers. This fit, coupled with the stiff materials, requires that shooters with wide feet go for a size or half a size higher.
Pros
✅ Scientifically designed track pad#
✅ Durable multidirectional outsole
✅ Consistent lateral and forward stops
✅ Upgraded Lightweight and responsive phylon midsole
✅ Highly reinforced bask of the upper for ultimate ankle support
Cons
X Not ideal for shooters with wide feet due to the perfect true to size and stiff materials.
Learn More from SneakerWagon: Best Shoes For Basketball Referees
Frequently Asked Question
Do basketball shoes make you shoot better?
Basketball shoes make you shoot better and increase the accuracy of both perimeter and short-range shots by 40%.
Basketball shoes make you shoot better by providing well-engineered traction for consistent and non-slip stops complemented by comfortable and ergonomic cushions and fit.
Also, basketball shoes feature adequate compression with flexible materials for an excellent heel-to-toe transition to make 3 point shooters strike with confidence and accuracy.
Our Final Thoughts
Nike KD 14 Wolf Grey 2021 CW3935-100 Review and Adidas Unisex-Adult Dame 7 Extply Basketball Shoe were the best basketball shoes for shooters.
These shoes offer perfect traction, excellent cushion, sturdy support, and a perfect fit.
Also, these basketball shoes are suitable for shooting guards, centers, and small forwards or even centers due to their springy responsiveness and outstanding stability when making lateral movements.
Picking the best basketball shoes for shooters requires that you carefully consider (1) perfect traction indoors and outdoors, (2) adequate cushioning to prevent hurting when making quick shoots, (3) durable upper materials to prevent wearing (4) a perfect fit to lock your foot nicely and finally (5) adequate responsiveness to give you an edge when making high leaps.