The best basketball shoes for big guys should offer adequate cushioning to absorb high pressure and heavyweight while providing exceptional ankle and forefoot support for quick and safe leaps.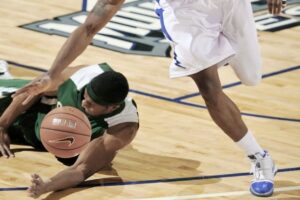 Also, the best basketball shoes for big guys should provide fast and continuous responsiveness for both lateral movements, rapid direction changes, and high leaps. 
In addition, shoes for big basketball guys should offer exceptional traction with minimal dust retention in the treads that allows for sturdy strides leading to a safe and non-slippy basketball session.
Lastly, great shoes for big guys on the basketball court should be easy to wear with a wide collar that allows for an easy entry and comfortable lock-feel to ensure a secure wraparound in a basketball session.
Under Armour Men's Embiid 1 Basketball shoe tops our list here at SneakerWagon Hub and checks all the critical criteria to be the number 1 overall best basketball shoes for big guys.
Reviews for Best Basketball Shoes for Big Guys
Specifications
Weight: 13.9 oz

Fit: True to Size
Embiid 1 is the overall best basketball shoe for big guys. Embiid 1 is lightweight, weighing just 13.9 oz due to the well-balanced mesh textile upper.
As a big guy, whether a guard, forward or center, you can leap and rebound quickly without the nagging of overly weighty shoes.
View on Amazon
The mesh upper with open-hole design locks not only big guys' feet but also promotes ultimate breathability, thus eliminating overheating even with the heavyweight of a big man.
This way, regardless of the pressure on the knees, Embiid 1 feels constantly aerated and cool.
Embiid 1 has an excellently designed TPU wing that locks down the midfoot to eliminate fidgeting and promotes lateral stability for big guys, thus allowing for heart basketball defense and leap.
The 5/8 build design provides additional ankle support to stabilize your foot regardless of the pressure on your knees or entire body weight.
Therefore, Embiid 1 prevents unnecessary bruises and enhances smooth basketball play.
As a big guy, you are aiming for adequate cushioning for strong and comfortable support.
Embiid 1, through its Die-cut EVA sock liner, provides sufficient cushioning and support to ensure your foot can lean, leap or rebound quickly and comfortably.
Also, even with cushioned landings, Embiid 1 enhances explosive takeoffs through the bouncy Micro G foam midsole that excellently absorbs shock and expands to facilitate a quick leap for big men.
Embiid 1's rubber outsole provides outstanding traction. Its unique pattern offers exceptional sturdiness during lateral movements on the court and top-notch grip to prevent slipping or missing the ball or basket.
Pros
✅ It has unique treads for direction control and sturdiness.
✅ Its mesh upper has open holes for ultimate breathability.
✅ It does not fidget but locks the foot decently.
✅ It has adequate cushioning and bouncy foam for fast leaps.
✅ It is excellent for all basketball positions for big guys, including guards, forward, centers.
Cons
X It is not an excellent choice for wide feet.
Specifications
Lebron 18 are the runners-up for the best basketball shoes for big guys and come to iron out some of the drawbacks of the Lebron 17; to give an excellently grippy outsole with lateral and linear screws that provide exceptional traction both indoors and outdoors for big guys.
The shoes fit true to size with the toes and heels right at the edge, where we like them to give you an all feet round lock that is comfortable and secure.
The laces feed nicely into the tunnels helping with anchorage without additional weight.
Lebron 18 provides ample heel cushioning with a molded TPU heel counter that maintains sturdiness to develop enough force when making long strides or striking as a big guy.
Also, the zoom air piece under the heel runs all the way to the forefoot to provide springy responsiveness, thus giving an excellent heel-to-toe transition when braking or speeding.
The KnitPosite 2.0 material is both breathable and lightweight, securing the entire foot to allow maximum perspiration for big guys hence an excellent airflow and no odors.
For additional comfort, Lebron 18 has air embedded in the tongue to improve comfort and cushioning over the top of your foot.
Therefore, you will achieve maximum cushioning for a big guy, which reduces pressure points and perfectly absorbs shock to enable safe landings and explosive rebounds.
Pros
✅ It has linear and lateral planes on the insole for traction and flexibility.
✅ It has excellent lacing and is true to size fit for extra comfort.
✅ It has ample heel cushioning
✅ Its tongue provides additional cushioning.
Cons
X Wide feet are bound to shift and fidget a lot when making sharp lateral movements.
Learn More from SneakerWagon: Best Shoes For Basketball Referees
Specifications
Pro Bounce 2019 is our 2nd runner-up for the best shoes for big guys in basketball.
The shoe features an excellent natural breathable upper coupled with a canvas lining with decent airflow that eliminates odors and sweat, keeping a big man's feet fresh. 
The OrthoLite sock liner provides a soft landing surface to give comfort to big guys' feet when falling back from high rebounds.
The counter lining has 2 comfortable pods that secure the high ankle area, providing a locked feel and additional cushioning for big men.
The unique feature here is the degree of customization of the traction outsole. The traction pad features high-quality vulcanized rubber that provides an outstanding grip.
The traction pad is segmented into three sections with different tread patterns.
The back segment has a racetrack pattern, plus the midsection has 2 herringbone patterns with one customized for lateral movements grip.
This way, Adidas Men's Pro Bounce 2019 customizes the traction per the directional movement of big guys offering a decent grip regardless of your basketball court position.
The internal TPU character excellently sits on the external U clip, the overall lockdown of the shoe outsole EVA plus the lateral barrier for the midsole of the shoe, all gang up to create a well-supportive show for both your mid and hindfoot.
This way, as a big man, your foot stays supported, avoiding bruises even during rough play, intense matches, and during sharp changes in direction.
Pros
✅ It has a breathable upper for dryness and efficient airflow.
✅ Its OrthoLite sock liner and pods on the counter liner provide excellent cushioning.
✅ Its traction pad features high-quality vulcanized rubber with segmented patterns.
✅ Its overall support, including the lateral barrier, ensure a well-locked down shoe.
Cons
X It scores 8/10 on traction due to inferior separation of the grooves that leaves room for dust collection, thus increasing slippage if you do not wipe properly.
X The toe vamp is built of mesh with a slightly high degree of flexibility.
Specifications
Forth on the list is Nike Air Zoom Hyperposite 2, with outstanding traction due to the contour design treads that increase surface area to offer an excellent grip.
The most significant advantage here is that often for big men, the entire outsole rests on the court surface.
However, any maneuver to catch mobility and extra flexibility is limited by the rigid front of the outsole, which is not a big con for big guys.
View on Amazon
Nike Air Zoom Hyperposite 2 features a 360 cushion design. The PSI close to the frontline EVA is outstanding, eliminating instability, thus giving a firm feel and a responsive and springy stride.
This way, big guys have maximum impact protection from landing after rebounds and quick direction changes.
The hyperposite upper and mesh interior material couple up to make a durable basketball shoe capable of withstanding friction and wearing.
Also, the hyperposite upper feels comfortable to play without the over stiffness due to the inner boot.
Even with the thinner and stripped-down posite on the upper, your feet as a big man always feel perfectly locked without fidgeting.
The support is outstanding and sturdy and aims to satisfy a huge basketball player playing at the post.
The maximum stability of the outsole, the higher tensile strength of the zoom bag, and the stiff phylon midsole all triple up to form formidable support for a big man's foot's sole.
The hyperposite upper provides sturdy support to the ankle area to allow for a comfortable basketball session.
The multiple cut-outs play such a significant role in producing a lightweight to sort of balance out the stiffness of the hyperposite build.
Pros
✅ It has excellent contour design treads for maximum grip.
✅ It has a durable and comfortable hyperposite upper deal for big guys.
✅ Its sole, hyperposite upper and phylon midsole provides adequate support.
✅ Its cutouts significantly reduce its weight.
Cons
X The front part of the traction pad is stiff, requiring frequent use to break in and form natural flex.
Specifications
At position 5, we have the Jordan Jumpman Hustle from Nike, which is the best basketball shoe with a zipper for big guys.
This shoe zips upwards for big men with fun about zippers to conceal the lace section and provide extra sturdiness to the overall build.
The shroud of the zipper is made of high-quality Vinyl, which resists dust and resists tearing to create a lifelong experience.
Jordan Jumpman Hustle features a straight herringbone tread pattern on the outsole that offers perfect traction for big guys in all directions, thus providing a firm grip too large basketball players in all positions.
The shoe's interior is made of high-quality textile construction that perfectly locks the foot to allow an excellent fit. There are elastic bands of the tongue for easy entry regardless of foot width. 
Jordan Jumpman Hustle has excellent weight distribution and feels deceptively lightweight due to the phylon midsole and zoom air in the front foxing.
The split down the heel counter curves aggressively to assist in heel-to-toe transitions and enable big guys to brake, strike, and even change direction smoothly.
Pros
✅ It has a zipper for extra style and concealing laces.
✅ The straight herringbone pattern of the treads provides universal outstanding traction.
✅ It is easy to wear due to elastic bands on the tongue.
✅ It has an excellent weight distribution.
✅ Maximum cushion to support a big man's weight and pressure.
Cons
X The zipper can be slightly tricky to close, especially for wide feet.
Specifications
At position 6 are the Crazy Explosive 2017 which are the best basketball boot shoes for big guys.
These basketball shoes are, therefore, a one-piece upper with the tongue connected to the rest of the shoe complemented by a flexible collar for easy entry.
The high-quality rubber outsole offers superior traction to the partially translucent outsole of the Jordan Jumpman Hustle.
The maze-like contour treads provide a firm grip to big guys on the court, especially during lateral movements.
The midsole cushion is comfortable, responsive, and simultaneously low to the ground to provide big men in basketball with an outstanding boost when rebounding.
The double-layer upper consists of the primary material plus a TPU forge mesh layer that provides support to the underlying layer giving you a well-fitting shoe that locks down the foot nicely.
The heel counter is ergonomic and well designed to reduce slippage and heel collision.
Also, the anatomical lacing excellently wraps the whole foot to perfectly lock the foot without any pressure points.
Pros
✅ It has superior maze-pattern treads for outstanding traction
✅ It has a wonderful combination of comfortable, responsiveness, and lowness to the ground.
✅ It has an excellent anatomical lacing system.
✅ The high top feels natural and curves just as your ankle
Cons
X The shoe slips on the lateral part of the shoe and requires more time to break in.
Specifications
Finally, at position 7 are the Lebron 17, which features a unique traction pad to bite the court excellently. The rubber is pliable and offers great sturdiness even during quick changes for big guys. 
The slits on the traction pad offer outstanding flexibility and mobility instead of basketball shoes with single flat-piece traction pads.
This flexibility balances out the maximum cushion in the Lebron 17 to provide a locked, comfortable foot while offering the option of quick leaps and movements.
Often basketball shoes with max cushion are rigid and stiff. However, Lebron 17 has a decent balance making it unique from its competition by cushioning a big guy's foot while offering the flexibility required in the forefoot section.
Nike included a safety curved lining on the edge of the Lebron 17's traction pad in the midsection and back to offer formidable stability, especially when you pop on the zoom unit, ensuring that you never tip over as a big guy.
The springy stabilizer, super-bouncy midsole, and the flexible forefoot section, all triple up to provide smooth speed control when a big basketball man is striking with their heel or slowing.
These features make Lebrton 17 the best choice for big basketball guys breaking with their heels and easing the stride.
Lebron 17 features a durable net upper made of premium textile and heat welded TPU with strong adhesive to provide ample ankle support.
This feature caters to the support of big guys who are often changing directions without pain in the ankle or hindfoot section.
Pros
✅ It has a luxurious feel due to the max cushion.
✅ It has a perfect balance between cushion and flexibility.
✅ It shows exceptional braking from the heel.
✅ It offers sturdy ankle support.
Cons
X Although the split Lebron 17's traction pad is flexible, its gap provides a plane of weakness for a big guy leading to separation between the left and right quarters of the front of the tracking pad.
X Its lacing does not provide adequate locking, especially in the forefoot section.
Final Thoughts
Under Armour Men's Embiid 1 Basketball Shoe and  Nike Men's Shoes Lebron 18 Los Angeles by Night DB8148-600 were the overall best basketball shoes for big guys.
These two picks show exceptional cushioning to reduce pressure on the heels section while fitting nicely without slipping.
Also, the traction on both is perfect with a firm grip both indoors and outdoors. Picking the best shoes for big basketball guys requires that you consider top-notch cushioning, weight distribution, strong traction and grip, high cut, and easy entry.
Also, the material should be durable and comfortable to fit while providing excellent ankle, midfoot and forefoot support.