The best shoes for slacklining play a significant role in ensuring that you walk the longest on the slackline without tripping.
Thus, the best slacklining shoes should have a firm and anti-slip grip delivered by a solid outsole construction to avoid sliding.
This way, you remain on the slackline for long, and descending the slackline is hassle-free.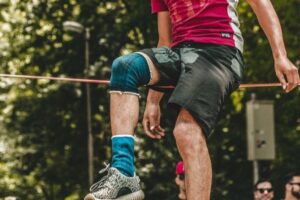 Furthermore, good shoes for slacklining must be brief and offer near barefoot experience to give the foot contact that gives you perfect balance.
Today, SneakerWagon's podiatrists present the top picks for best shoes for slacklining picked by pros and experienced footwear specialists.
Reviews Of The Best Shoes For Slacklining
The Sokwa 8 features a breathable Ariaprene mesh upper built to perfectly wick away foot moisture and perspiration when slacklining during summer.
This way, your feet remain dry, fresh, and cool even when practicing slacklining vigorously or even when you have sweaty feet.
The upper fabric is flexible, light, and stretchy, incorporated with the fitting feature of socks on the feet that ensures free stretching of muscles, making them very comfortable as you can feel your feet when slacklining.
Sokwa X8 is the best Sockwa slackline shoe due to its thin-soled feature with a minimal thickness of just 1.2mm.
The thin polymer outer sole makes the shoe flat and gives you a comfortable barefoot feeling that ensures you feel the texture and motion of the slackline to plan your next move and balance well. 
Sockwa X8's outer sole rubber tread is flat to prevent the outer sole from interfering with your movement by sticking unnecessarily to the slackline, and this makes it the best slackline shoe brand.  
The grippy rubber outsole makes the Sockwa X8 the best Highline and longline slackline shoes allowing hobbyists to achieve balance and an anti-skid experience on the slackline rope.
Furthermore, the rubber used here is tough to resist wearing against most slackline rope surfaces, thus improving durability throughout your slacklining sessions.
Sockwa X8 is lightweight at 3.4 oz (Men's 4), an added advantage as this gives you comfort and flexibility during slacklining. That, in turn, ensures you maintain balance when walking on the slackline.
Pros
✅ Extremely durable
✅ Breathable Ariaprene Mesh upper
✅ Odor-free, hypo-allergenic, and superior insulation
✅ Versatile for outdoors and indoors
✅ Lightweight and BREATHABLE upper
✅ Barefoot feeling for best slacklining experience
Cons
X Slight toe spring requiring slackliners to press harder on the slackline
Sockwa G4's neoprene/nylon upper is 2mm to provide your feet with insulation and protection, thus favorable for slacklining in winter.
This feature makes Sockwa G4 the best Highline slackline shoes as your feet will remain warm despite the cold and wind experienced at the high altitude. 
The breathable and extra stretchable lycra tongue is flexible to ensure the toes remain sensitive to the line.
The flexibility of the Sokwa G4 ensures comfort by preventing pressure on the feet, making Sokwa be amongst the best slackline shoes brands.
Sockwa G4 is the best Sockwa slackline shoe with a 2mm ultra-thin and flat outer sole that maintains a barefoot feeling and still accords your protection while walking on the line.
The thermoplastic polyurethane sole is durable and ensures your feet do not get injuries from the rocky ground in case of tripping, making it the best Longline slackline shoe.
The TPU sole gives excellent grip on the line to prevent slipping, making it recommended for use in wet, cold weather or Highline slacklining.
The footwear comes in a lightweight construction weighing only 232 grams (8.2 oz) for a Men's 13 pair.
The lightness allows for a bulk-free lift and guarantees striking a balance on the slackline for a steady experience.
Sockwa G4 is shaped on the feet like a sock, maintaining a snug fit up to the ankles that prevent any foreign object from slipping inside the shoe.
The fitness will shut out any interference during slacklining.
Pros
✅ Supportive Lycra:Neoprene: Nylon upper
✅ Pull-on barefoot experience
✅ 2mm neoprene for warmth
✅ spandex tongue
✅ Exclusive TPU Sockwa sole
✅ excellent wet-slip grip
✅ Durable
Cons
X None
Learn More for SneakerWagon: Best Shoes For Ziplining
Centipede Demon comes with non-slip treads that offer grip effectively while walking on the slackline. This way, you can retain balance and steadiness for a long without tripping off the slackline.
The TPR outsole of the Centipede Demon is not only solid to offer durability on all slackline materials; but is also excellently resists water entry making these shoes the best Highline slackline shoes when slacklining around the pool, in wet weather, or at the beach.
Furthermore, Centipede Demon's light meshy upper fabric dries up quickly, preventing the feet from wetness and foot fungal diseases. 
The shoe's bottom is designed with a drainage mechanism to ensure the shoes adapt to wet areas and remain dry and comfortable, making Centipede Demon the best Sockwa slackline shoes for winter.
Also, Centipede Demon has a thick and durable cushioned insole that gives protection against the impact on complex objects on the ground like stones when alighting the slackline.
The upper is breathable and made of lightweight lycra fabric to ensure the feet are well ventilated as in sock wear and give a barefoot feeling during slacklining.
Centipede Demon is among the best slackline shoe brands due to its elastic straps, which are convenient in adjusting the shoe to the preferred width of your foot and give a comfortable fit.
Centipede Demon is flexible and lightweight at 5.6 ounces for a 5.57 x 2.32 x 0.46 inches unisex adult. The lightness is efficient in keeping your feet free and comfortable when walking on the line.
Pros
✅ lightest slip-resistant cushion sole
✅ Durable
✅ fast draining and cross ventilation
✅ ELASTIC STRAPS
✅ lycra mesh fabric 
✅ Double-layer fabric upper
Cons
X Not ideal for saline water
WateLves Water Shoes come with a uniquely patterned anti-slip sole uniquely patterned to significantly increase friction, thus guaranteeing excellent grip.
This way, slacklines are less likely to slip off from the slackline.
The adhesion ensures balance even on a slippery line. The thick sole makes them the Best Longline slackline shoes as it protects the foot from getting hurt by sharp objects on the ground when alighting.
The flat thermoplastic elastomer's outsole ensures flexibility of movement ensures that you can fidget excellently o the slackline as you seek to stay on the slackline.
The sole inner cushion is cozy and molded with shock absorption material to make it comfortable.
WateLves Water Shoes are the Best slackline shoe brands due to their toe guard designed with a high-quality rubber that adequately protects the toes as you step on the line.
Furthermore, this footwear is ultra-lightweight comfort and freedom during slacklining to deliver precise steps. 
The upper WateLves Water Shoes are 92% polyester and 8% spandex. The breathable upper is ultra-light and elastic, giving you a comfortable fit and sock feeling and slacklining for long hours.
The footwear can adapt in water due to its bottom side draining mechanism with seven holes
to ensure proper water drainage and a cooling experience. This makes it the Best Highline slackline shoes as it can withstand the cold moisture mostly encountered at high levels.
The ankle neck is smoothly designed to prevent chafing during movement. This will ensure
you concentrate on slacklining and avoid distractions of particles entering your shoes.
Pros
✅ Ultra Lightweight
✅ Breathable
✅ Smooth designed neck 
✅ top-quality rubber sole
✅ shock absorption performance
Cons
X None
The upper is designed with a meshy highly breathable fabric allowing proper ventilation, making you comfortable even after walking on the slackline for long hours.
The synthetic upper further ensures the shoes dry up quickly to prevent the discomfort of sweat during long periods of slacklining, especially in hot seasons.
Venzo Slacklining shoes are the Best Highline slackline shoes as it has a low-cut construction making them very lightweight at 580g for Size: 39. This makes the shoes fast fit and flexible.
Venzo Slacklining Shoes are made of a textile lining that contains a removable sole. This gives you the option of using the sock liner or not, depending on your preference.
You can remove it if you need a lighter feel during movement, making it one of the Best slackline shoe brands.
The footwear has nine-degree adjustable floating cleats to prevent tightness and ensure comfortable and flexible movement. 
Venzo slacklining shoes are the Best Longline slackline shoes. Their flat, stiff and rigid outer sole makes them able to adapt to heat, thus insulating the feet from excessive heat after prolonged walking on the line and ground, resulting in heat generation.
The shoe's tongue is bound to the middle strap to help hold the tongue firmly and prevent it from sliding down during walking on the slackline.
The ankle neck cushioning is to protect you from friction during movement and guarantee balance during slacklining.
Pros
✅ Quick-drying
✅ Highly-breathable mesh
✅ Textile lining with removable sock liner
✅ Low-cut construction
✅ adjustable floating resistance
Cons
X Slightly Noisy
WHITIN Barefoot Sock comes with a non-marking rubber outsole that provides your feet with great anti-slip features guaranteeing the stability you need for the best results while timelining.
The sock-like upper design provides your feet comfort by offering a soft snug fit that allows you to move freely all day long.
The durable upper also ensures your feet remain dry throughout the slacklining process even on the hottest summer days, by wicking moisture away.
WHITIN Barefoot Sock durable outsole is specially
designed to protect your feet by ensuring you withstand highly abrasive surfaces you may encounter while balancing out on the slackline regardless of what the natural conditions are.
The best longline slackline shoes are made without adhesives and seams, making them both eco-friendly and machine washable, ensuring you have an easy time cleaning the pair for next slacklining use.
WHITIN Barefoot Sock's flexible feature allows your feet to bend in any shape and move in all directions without causing your feet any form of pain.
This feature allows you the freedom to position your feet the best way for the best trick lining outcomes.
WHITIN Barefoot Sock lightweight design provides a barefoot feel that ensures you enjoy slacklining without compromising on the safety of your feet.
Pros
✅ Slip-resistant and non-marking rubber outsole
✅ Moisture-wicking sock uppers
✅ Durable rubber outsole
✅ Eco-friendlier and machine washable
✅ minimalist sock shoe for slacklining
Cons
X Slight factory smell
Feelmax Saana 2 comes with a knitted one-piece upper that makes the pair of footwear highly breathable ensuring unrestricted air circulation in and out of your feet.
This feature promotes healthier happy feet even while slacklining under the scorching sun.
The NatuRun Minimo 2,5 mm rubber outsole provides your feet with the needed support by ensuring grip preventing slips that could cause potential injury.
The advantage here is that you can improve your performance at street lining as the pair provides ample balancing features.
Feelmax Saana 2 barefoot design is crucial as it stimulates your feet and the necessary muscles by activating them for sufficient blood circulation.
Sufficient circulation is important as it ensures the correct foot positioning while balancing on the webbing and, at the same time, alleviates foot stress that could cause pain.
The lace-up closure system makes it easier for the slackliner to swiftly prepare for the activity, thanks to the ease of entry.
Additionally, the laces allow a comfortable wraparound and a custom fit promoting comfort all day long.
Feelmax Saana 2 flexible design allows your feet to bend in any shape without injuring parts of your feet.
The ability to turn is also a packing advantage as it takes minimum space while packing for the slacklining trip.
Pros
✅ Rubber outsole
✅ Breathable Knitted polyester/cotton upper
✅ special rubber compound
✅ NatuRun Minimo 2,5 mm
✅ flexible barefoot shoe
Cons
X None
New Balance Minimus midfoot wrap provides a secure fit by ensuring your feet stay in place, a vital feature that enhances performance by promoting sufficient balance while slacklining.
The premium performance foam makes the pair of footwear extremely light, ensuring a bulk-free experience which ultimately means that after a long day of highlining, your feet remain fresh and fatigue-free.
New Balance Minimus comes with Acteva® midsoles that are 24% lighter in comparison to the standard compression-molded foam from New Balance.
The lightweight midsole provides The needed compression allowing your feet a smooth bounce throughout the slackline from one end of the anchor to the other.
The antimicrobial treatment aids in odor reduction ensuring that your feet remain fresh and cool throughout use thus promoting healthy feet.
New Balance Minimus synthetic upper with mesh fabric panels enhances breathability by allowing sufficient airflow throughout your feet, promoting dryness.
The breathability feature ultimately keeps foot infections such as Athletes Foot at bay, even after slacklining under extreme temperatures.
The 4mm drop works perfectly by enhancing feel, a crucial feature that allows the slackliner to feel the webbing for proper foot positioning promoting balance long term.
New Balance Minimus Vibram® outsoles provide maximum traction throughout the nylon webbing, allowing you to get to the other end of the anchor with ease.
Pros
✅ Rubber outsole
✅ 4 mm drop
✅ Odor-resistant treatment
✅ Breathable Synthetic/mesh upper
Cons
X Take slightly long to break-in
Five Ten Hellcat Pro water-resistant protection makes the pair of footwear suitable for use while highlining above water bodies as your feet remain dry throughout.
The perforated tongue works together with the water-resistant feature to enhance feet dryness as the tongue promotes breathability by allowing ample air circulation while slacklining on a sunny day.
Five Ten Hellcat Pro comes with laces for closure that makes wearing easy.
Additionally, the slacklining footwear comes with a hook and loop cover that provides the perfect wraparound and a personalized fit for all-day comfort.
The compression-molded EVA midsole reduces the bulk on your feet which means that you get to balance between the two anchor points with ease and superior comfort.
Five Ten Hellcat Pro comes with a three-quarter, dual-density vibration-dampening TPU shank that provides your feet with ample support and structure while also allowing your foot to flex while walking.
The impact-resistant four-layer TPU toe box with 2mm of impact-resistant foam protects your feet against the painful impact you may encounter during the slackline setup.
Five Ten Hellcat Pro Stealth C4™ Dotty outsole provides grip ensuring that you maintain balance throughout the slackline for a successful performance.
Pros
✅ Rubber outsole
✅ Lace and hook-and-look closure
✅ Supportive textile upper
✅ Abrasion-resistant weldings
✅ Clipless compatible
✅ Perforated tongue for breathability
✅ Stealth C4™ Dotty outsole
Cons
X Slightly short velcro strap
WHITIN Cross-Trainer padded rear collar that provides superior comfort for your Achilles tendon, which plays a vital role in terms of an easy balancing across the slackline.
The 5 mm power footbed provides cushioning throughout your feet ensuring your feet rest comfortably, allowing you to focus on balancing on the rope instead of the pain that comes with lack of cushioning.
WHITIN Cross-Trainer comes with an engineered knit upper that fits your feet the same way your socks would which means that the pair of footwear is highly flexible thus ensuring that your movement across the slackline remains unrestricted.
The zero-drop and non-elevated sole promote better posture which means that you get to experience slacklining for longer without exhausting the rest of your body at the end of the day.
The advantage here is the balance that comes with the non-elevated sole allowing you to move across the rope faster and with ease.
WHITIN Cross-Trainer sticky-grip rubber outsole combines the grip, traction, and durability trifecta that promises a secure foothold across the slackline.
The durable aspect is vital as it ensures that you maximum use for the pair of footwear, allowing you to wear the shoes for several slacklining activities without replacing them. 
Pros
✅ Padded rear collar pad
✅ 5 mm POWER FOOTBED
✅ Engineered knit upper for a sock-like fit
✅ Zero-drop, non-elevated sole
✅ Sticky-grip rubber outsole 
✅ Durability
✅ trail-ready performance
Cons
X None
Conclusion
Sockwa X8- Breathable, Barefoot/Minimal Shoes for Slacklining and Sockwa G4 Minimal Barefoot Shoes for Slacklining were the overall best shoes.
These shoes give slackliners perfect balance and a firm grip to allow you to remain walking for long on the slackline.
These shoes also offer a barefoot experience feel the texture and scope of the slackline, thus making slackliners take advantage of safety and interest in the sport.