The best shoes for janitors should offer top-not slip resistance through a well-built traction pad that provides a firm grip to the surface, thus preventing skids and slides even in soapy or tiled floors.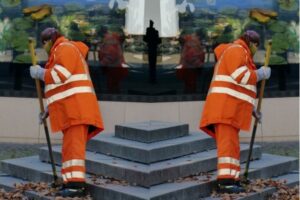 Also, the best janitor shoes should balance safety and comfort by offering comfortable cushion interiors that allow janitors to work long shifts.
The best work shoes for janitors should also show many water-resistant and waterproof features to ensure that water, soap, and other cleaning agents do not soak on the shoes' fabric but repel and flow away.
Furthermore, good janitor work boots should be easy to wear while providing a comfortable experience at the heel, ankle, and calves even when bending or squatting to reach out to surfaces to clean.
In addition, features such as electrical hazard protection and anti-fatigue technologies plus heat resistance ensure that your janitor footwear does not help you accomplish your work targets safely.
Lastly, the best shoes for janitorial work should be durable and exhibit maximum abrasion resistance, thus giving janitors a good value for money.
However, there are thousands of shoes claiming to be fit for janitors on the market. Today, SneakerWagon hub presents well-filtered research of dozens of janitor shoes.
Reviews of the  best shoes for janitors
Bullfrog Pro II work boots are the overall best shoes for janitors. These work boots have a considerably high waterproof shaft that measures approximately mid-calf from the arch providing janitors with ample protection from cleaning agents, chemicals, dirty water, and detergents.
Therefore, janitors can clean shower rooms, restrooms, and even pools while ensuring their feet remain dry and safe from liquids.
The water-resistant shaft not only impedes water entry but also repels liquid from the surface ensuring soaps and cleaning agents slide down away from the foot, which makes these work boots easy to clean and prevent stains.
The outsole has an aggressive tread pattern that provides a firm surface grip to create ultimate slip resistance, thus increasing janitors' safety when working on sloppy and soapy surfaces.
Also, Shoes for Crews (SFC) have implemented a superior rubber outsole that offers significantly higher traction than normal nylon boots.
This way, you get durable and safe shoes for cleaning the apartment or building.
The included gel insole perfectly mimics the nature of your foot and provides additional cushioning, thus making janitorial work hassle-free even when standing all day.
The most significant advantage here is the Electrical Hazard Protection with a high EH rating implemented in the heels and outsole of these boots to ensure that janitors are safe from any electrical hazards up to 18,000 Volts.
Therefore, Janitors can increase confidence while working in buildings or apartments and have a lifeguard in case of electrical faults.
The soft-toe of the toe box ensures that your forefoot always stays protected from brooms, falling objects, and even when you hit against furniture.
Regardless of the intensity of the cleaning session or the thoroughness of your daily janitorial work, these boots offer adequate physical protection to your toes.
Pros
✅ Considerably High shaft
✅ Water-resistant and water repellent upper and vamp material
✅ Heavy-duty traction pad
✅ Tested Anti-slip resistance
✅ Electrical Hazard Protection 
✅ Soft-toe for physical protection
✅ Comfortable gel insole
✅ Easy Slip-On Entry
✅ Wide collar for thick calves
Cons
X Take slightly log to  break-in
WOLVERINE Floorhand Work Boots are the best work boots for men janitors
Floorhand features a high-quality 100% leather build that shows incredible durability providing men janitors with a excellent value for money and low frequency of changing footwear.
The leather material here is waterproof grain leather that perfectly resists water allowing your feet to always remain dry on wet floor surfaces.
Whether you are standing on wet floors or soapy water is spilling on your foot, your feet always remain protected from harmful chemical sand dampness.
The rubber outsole offers outstanding traction not only due to its lug and treading design but also due to the high-quality rubber that ensures a decent coefficient of friction.
This way, regardless of the pace of your janitorial work or the slope of the surfaces you are working on, the traction is pretty consistent and firm to protect you from slips.
The shaft measures 10.75″ from the arch, which is adequate to ensure the back of your calf does not hurt even when, as a janitor, you have to bend to reach out to surfaces or when you are making fast strides.  
The heel on the outsole perfectly inclines, rises, and stands at 1.75″ to give men janitors with flat feet an excellent cleaning session even when working for a long time. 
The boot measures 15″ in circumference, which is adequate for muscular and fat legs giving ample room for the calves to play without hurting.
The most significant advantage here is the strong steel toe that meets all ASTM standards (f2413-11 mI/75 c75 eh) to offer utmost protection from falling objects, brooms, and furniture.
This way, your toes as a man janitor are always safe regardless of the weight of falling objects.
WOLVERINE Floorhand provides adequate comfort for doing janitorial work all day or night due to the deceptively lightweight build, the cozily cushioned footbed, and the rubber midsole to offer a bouncy landing surface.
Pros
✅ Lightweight boots
✅ 100% waterproof leather grain
✅ Perfect fitting collar for wide legs and feet
✅ Perfectly fitting shaft for tall and short janitors
✅ Rising heel for flat feet
✅ Cushioned footbed for long term janitorial work
✅ Strong steel toe for additional physical protection
Cons
X Slightly wide for male janitors with narrow feet
Learn More from SneakerWagon: Best Shoes For Hotel Housekeepers
Skechers Gozard is the best women's sneakers for janitors not working in deep soapy water. The biggest advantage here is the high-quality Nubuck Mesh upper that does not exist in other janitor shoes. 
The high-quality mesh upper of Skechers Gozard provides a breathable experience wicking away perspiration and foot moisture and thus making sure your foot remains dry and free from foul odors.
This way, you can perform your janitorial duties dusting surfaces off, wiping furniture, and even scrubbing floors for a long time.
The herringbone tread pattern coupled with the high-quality rubber outsole provides outstanding and consistent traction to give you an anti-slip experience even when cleaning slidey floors such as tiles.
Here at SneakerWagon, we second the  ASTM F1677-2005 Mark II testing and back the claim due to the 0.40 high slip resistance rating in both oily and wet conditions.
Skechers Gozard's upper and the ankle support give your foot a comfortable wraparound and a secure lockdown to ensure your foot does not fidget or move unnecessarily, thus giving you a perfect relaxed fit.
These sneakers are lightweight, weighing in at only 8 ounces, and are, therefore, ideal for women juniors who want to perform agile wipes, quick scrubs, and fast dusting sessions or when there is too much work pressure at your workplace.
The sneakers feel like slippers to walk in and thus give you that nagless walk feeling.
The Memory foam midsole ensures that your foot receives adequate cushioning with springy responsiveness to propel you forward, making your janitorial work productive and preventing lagging behind the deadline.
Although breathable, Skechers Gozard has some water resistance that prevents cleaning water and soap from soaking into the fabric but instead slides down to keep your foot dry.
Pros
✅ Breathable and durable high quality mesh upper.
✅ Herringbone tread pattern for ultimate slip resistance
✅ Water-resistant upper
✅ Rubber outsole for maximum durability
✅ Relax fit due to the wra[around upper
✅ Lightweight sneakers for rapid washes
✅ Comfortable memory foam midsole
Cons
X Low water resistance
Skechers Felton is the best men's sneakers for janitors. These work shoes for janitors with a herringbone tread pattern and ergonomic grooves offer outstanding traction to prevent men janitors from slipping on tiled soapy floors.
Also, the rubber outsole significantly increases durability to ensure that your work shoes for janitorial work resist wearing and tearing, whether you are cleaning concrete floors or frequently using these snickers.
The unique advantage here is the OSHA-compliant nitrile outsole that gives crystal clear assurance of the risk mitigation and the environmental friendliness of the materials used.
This way, you are more confident working as a janitor with highly approved janitor shoes.
Skechers Felton provides ample foot support due to lace-up vamp, well-padded tongue, and reinforced stitching.
Also, the collar has excellent padding to ensure a comfortable fit. This way, janitors can feel comfortable claiming for a long time without ankle or forefoot discomfort while keeping up with pressure and high-paced cleaning jobs.
Furthermore, lateral movements are secured to prevent you from tipping over.
Also, the memory padded insole insert not only mimics the foot architecture to ensure perfect feet but also compresses to provide springy responsiveness to make you more agile.
Also, the insole provides a smooth landing surface for your foot sole, thus absorbing shock from fast strides, lifting heavy objects, or even long periods of standing or walking.
Skechers Felton provides ample ankle support due to the collar padding and the sturdy heel counter that ensures comfortable ankle and heel.
Therefore, your heel and ankle will not hurt even when performing janitorial duties involving putting pressure on the hips or knees, such as bending or squatting.
The durable synthetic leather upper is easy to clean to ensure soaps and cleaning agents do not stain the surface.
Also, the micro-perforations on the side wick away foot moisture and sweat, retaining your feet dry, thus ensuring breathability even during long cleaning sessions.
Pros
✅ Durable and easy to clean leather upper
✅ Breathable work shoes
✅ Overlayed rubber outsole for outstanding durability
✅ High Electrical Hazard Rating
✅ Max Cushion at tongue and collar
✅ Easy entry due to the heel pull tab
✅ Slip-resistant sneakers
Cons
X Low water-resistant upper
X 13.2 ounces
At position 5, are the Shoes for Crews Heather II. These sneakers offer adorable breathability due to the knitted upper that not only keeps feet cool but also rids off foul smells.
This way, cleaning the whole day or night is comfortable and doable.
The  Heather II is lightweight, weighing in at 9.27 ounces to ensure your feet are free and let you be productive to clean larger surfaces but for significantly less time.
The midsole features an upgraded Revive formula that compresses and rebounds to give you that springiness you need as a janitor when working fast or ascending or descending the stairs.
This way, as a janitor, you become more agile, and every step is well calculated and comfortable.
Heather II are breathable sneakers due to the jacquard knit that allows an efficient airflow to not only cool your feet but also wick away perspiration.
Regardless of the busyness at your janitorial work, your feet will remain dry and rid of any foul smells.
The adjustable EXLace system creates a perfect wraparound of your foot to give you a comfortable fit without any pressure points. This way, your feet remain intact without fidgeting or moving unnecessarily.
The rubber outsole is easy to clean due to the self-cleaning mechanism that rids dust and debris. This feature not only ensures that your shoes are clean but also ensures that the slip resistance is always top-notch. 
The well-implemented lugs and the rubber outsole build provide both outstanding traction when working on soapy surfaces but also floor-grade durability to ensure your janitor shoes remain functional for a long time.
Heather II shows fantastic water resistance and excellently repels soap, water, and cleaning agents away from the surface to reduce staining and soaking.
Also, the Spill Guard membrane implemented in the upper protects janitors' feet when working with hot liquids to prevent scalding feet.
Pros
✅ SFC slip-resistance technology
✅ Clog resistant outsole
✅ Durable rubber traction pad
✅ SpillGuard membrane in the upper
✅ Lightweight
✅ EZLace system for a supportive fit with no pressure points
✅ Responsive SFC Revive Foam Midsole Technology
Cons
X Although they are water-resistant, Heather II soaks in deep water and cannot be used for cleaning showers.
At position 6, we have the Timberland Pro Men's Direct Attach. This beast breaks a balance between janitorial work comfort and top-notch safety and performance.
Direct Attach has a shaft measuring approximately 6″ from the arch, which is adequate for the average adult height to give you a comfortable time when bending or putting massive pressure on the knees.
The heel measures approximately 1.75″, which is a perfect rise that gives janitors with flat feet a comfortable experience.
The rubber outsole plus the heavy-duty treads ensure that you get the ultimate traction performance regardless of the sliness of the surfaces you are cleaning or even if you're cleaning slidey tiled floors or oily surfaces.
Also, the traction pad shows outstanding resistance against abrasion and heat to ensure that your janitor work shoes last a long time and need frequent replacement.
The biggest advantage here is the 200 grams of insulation to provide sufficient warmth to your feet when cleaning during winter, cold mornings, or nights or when dealing with cold water.
This way, your cleaning, and janitorial work are hassle-free, and you can thus perform for a long time.
The boots feature waterproof leather upper that is perfectly seam-sealed to resist water entry to keep your feet always dry. 
The steel toe box ensures that your toes and forefoot are always protected from dropping brooms, cleaning agents, or even furniture, thus increasing the confidence and productivity of the janitor.
The cushioning on the inside, the padding on the collar, and the cozy tongue all triple up to give your feet the most comfortable fit to ensure long working days or nights are hassle-free.
Therefore,  Timberland PRO Men's Direct Attach is the best comfortable and safe shoes for janitors.
Pros
✅ 100% waterproof leather upper
✅ Adequate cushioning for long working sessions
✅ Rugged, heavy-duty outsole for traction and durability
✅ 200 grams of insulation to keep your feet warm
✅Steel toes box for additional safety
✅ Ergonomically Raised heel 
Cons
X Require long socks
Last but not least, Timberland Powertrain provides a modern style to your janitor works through its athletic form. 
Timberland Powertrain is breathable due to mesh linings on the upper that give a decent amount of air inside the shoes, thus maintaining foot freshness even during long working hours.
Also, the well-implemented microbial technology ensures that the fabric is free from dampness that often leads to fungal foot diseases.
These beasts also exhibit electrical hazard protection due to the single-density polyurethane midsole to protect you from faulty electrical circuits or apparatus within reach of the cleaning water.
The anti-fatigue technology implemented in the cushioning provides ample foot sole, heel, and ankle support to ensure that you never get tired walking or standing for long periods of cleaning the apartment.
Furthermore, Timberland Powertrain complies with the ASTM F2412-11 and ASTM F2413-11 safety standards to bring you janitorial work shoes that are safe from heavy impacts and compression.
The premium ripstop nylon upper shows considerable water resistance to prevent water from standing and soaking on the fabric surface but constantly draining away and leaving the shoe dry.
The Cement construction is not only durable for prolonged cleaning experience but also sufficiently flexible to reduce the time taken to break in.
The outsole is nuts; first, the outsole is made of higher quality polyurethane than is oil resistant SATRA TM63 to ensure that you will not skid or slide as a janitor, regardless of the soapiness or oiliness of the surfaces that you are cleaning.
Furthermore, this polyurethane outsole is not only abrasion resistant for rugged floors but also heat resistant up to 248 degrees Fahrenheit.
This way, you can clean in the hot sun, clean the furnace area while retaining the integrity of the outsole without unnecessary tearing.
The unique advantage here is molded, and inverted cones support that offers responsive feedback at hotspot pressure zones. In the end, you have a lighter and more comfortable boot.
The lace-up enclosure and the padded footbed ensure that your feet always fit without the risk of fidgeting and movement, thus reducing the risk of discomfort or bunion formation.
Pros
✅ Fiberglass shank for structural support
✅ Heat, Abrasion, and oil-resistant outsole
✅ Athletic modern design
✅ Breathable janitor shoes
✅ Electrical Hazard Protection
✅ Anti-fatigue technology
✅ Premium ripstop nylon upper
✅ Perfect lockdown due to the lace-up enclosure
Cons
X Short laces for janitors who prefer a double tie
Learn More from SneakerWagon: Best Shoes For Grocery Store Workers
Final Thoughts
Shoes for Crews Bullfrog Pro II Work Boots, and WOLVERINE Men's Floorhand Work Boot was the overall best shoes for janitors and featured outstanding durability for frequent use and rough floors.
These janitor shoes also show excellent water resistance to prevent water entry and retain your feet dry when working on wet ground or where water is dropping or spilling from above.
These beasts also exhibit an anti-fatigue cushion that allows janitors to work for long working hours.
When picking the best shoes for janitorial work, janitors should watch for ultimate shoe durability, anti-fatigue comfort, toe safety, an anti-slip traction pad, and a robust support system.
Also, janitor sneakers should be breathable to ensure efficient airflow such that your feet remain dry and fresh regardless of the busyness of your janitorial work.